...................
..................


The
Valley Stream, New York
Volunteer
Fire Department
Unofficial Buff Site
Created by Dan Pempel
Click here to go to the Official VSFD website at valleystreamfd.org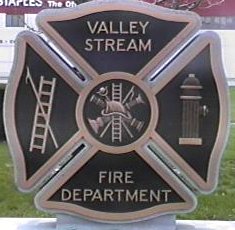 Serving Valley Stream Since 1898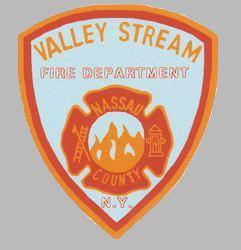 The Valley Stream Fire Department provides fire protection and EMS to the Incorporated Village of Valley Stream and the unincorporated areas of South Valley Stream, including the Mill Brook, West Sunbury, and Green Acres Mall fire protection districts. The department protects about 40,000 residents. It includes mostly residential areas, along with many businesses, some light industry, a major shopping mall, and several main thoroughfares.
Valley Stream is located in the southwestern part of Nassau County on Long Island, in the Town of Hempstead.
The VSFD is one of 71 volunteer departments in Nassau County. It is one of 6 departments in the Third Battalion. The other 5 are Hewlett, Inwood, Lawrence-Cedarhurst, Meadowmere Park, and Woodmere.
The department has about 275 volunteer members in seven companies: four engines, two trucks, and a rescue company. The department is led by a chief, two assistant chiefs, and the fire council, which is made of two wardens from each company. Each company also elects a captain, lieutenant, and other company officers.
The VSFD responded to 1106 incidents in 2007. I don't have the incident total for 2009, but Valley Stream responded to 10 Signal 10 working structure fires in 2009.

EMERGENCY NUMBERS:
DIAL 911 OR 742-3300 (direct line to Firecom)
Where's Valley Stream?
Click on images to enlarge

Radio
Click here for radio frequency information.
Listen Live



The Companies
Click on links for information and pictures from all 7 companies



Emergency Relief Squad 1
Rescue Company # 1


Ladies Auxiliary
The Ladies Auxiliary assists the fire department in numerous areas. One of their duties is supplying refreshments to firefighters at major incidents. They are also the backbone of the department's annual fund drive. They were first organized on August 14, 1923.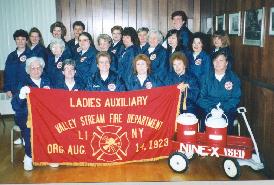 Junior Fire Department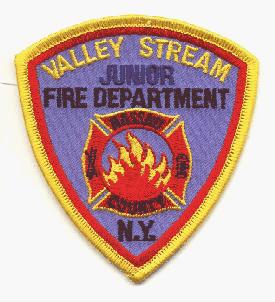 The current Juniors were founded in 1985. These youths, 12 to 18 years old, learn about firefighting and assist where they can at fires and around the firehouses. Many go on to become department members.
Misfits Drill Team
Members of the department have been competing in old fashioned drills for decades, taking home numerous awards. There are also the Junior team, members' children who compete against other junior teams in hose running events. The team used to be known as the Streamers.


Please Yield to Volunteer Firefighters with Flashing Blue Lights

1923 Reo Speedwagon Pumper


Owned by Dan Pempel of Truck 1. Originally in service in the Allentown, PA area. Purchased in the mid-1970's out of a farmer's field and completely restored to present condition. Top speed: 35 MPH, downhill, with a tailwind, on smooth roads. The truck is now down in Virginia at Dan's new home. Maybe it will make it's way up for another parade some day.

Return to my homepage
Go to my links page
Go to the Unofficial VSFD Juniors page (site may be down)
Go to the Official VSFD website

Last Updated on 4/2/11
Disclaimer:
This page is maintained by Dan Pempel and is not endorsed by, nor reflects the opinions of, the VSFD or the Village of Valley Stream.
Thanks to my brother John for providing some of the pictures.

Please note, I don't have any patches and am unable to get any, since I live in New Mexico. As such, some up my info might be out of date or missing. If you have any updates or pictures you would like to post, please email me.