342 and 347
Photo by Steve Takacs
---
House Fire on Terrace Pl, 2003
Photos by Steve Takacs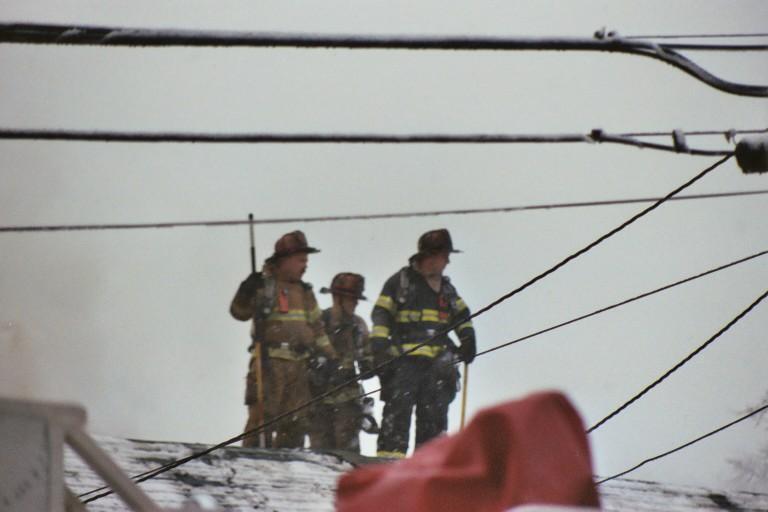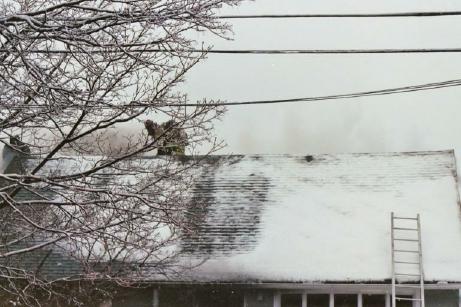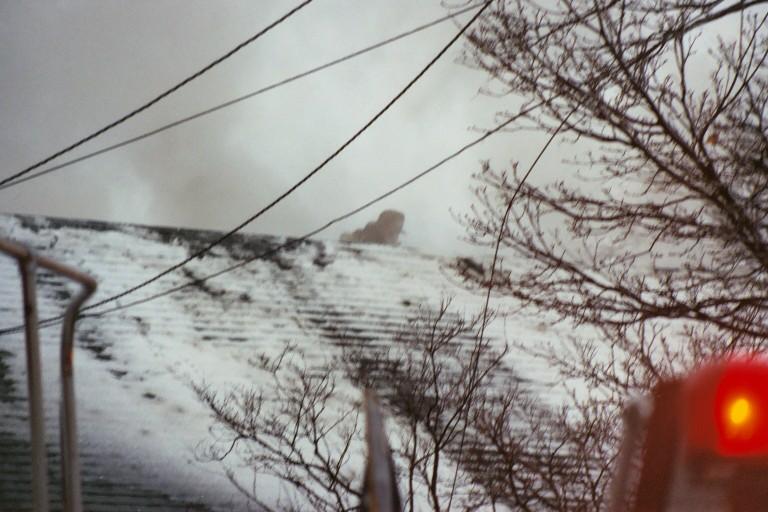 ---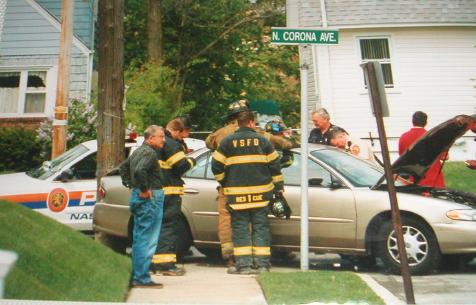 MVA on Corona Ave, 2003
<>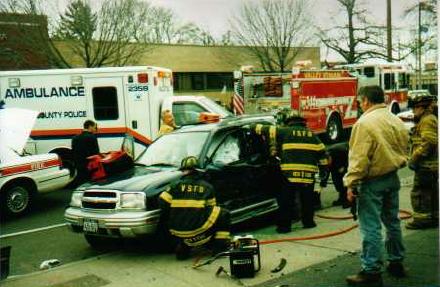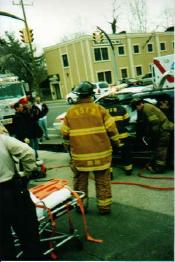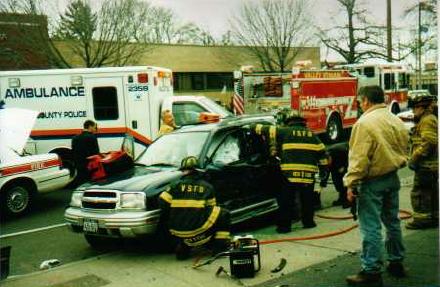 Two car accidents, June 2003
Photos by Jason Lappe, Malverne FD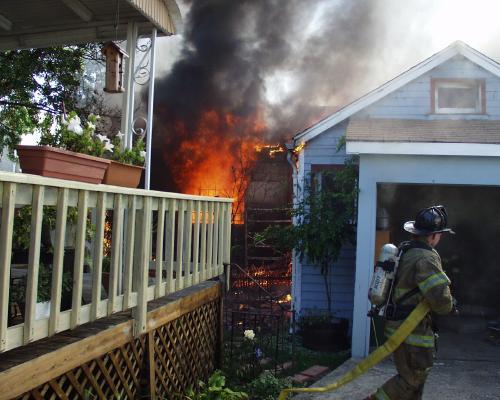 Photo and Info by Walter Weltner
More info & pictures on the official VSFD site http://www.vsfd.org/

At 1430 hours Saturday, September 7, 2002, Valley Stream Firefighters responded to a Signal 10 structure fire at 27 E. Merrick Road. Before any apparatus was on the road, Fire Com was reporting multiple calls of an explosion in the area and a resulting fire that had spread to nearby homes. Many firefighters responding to their quarters could see the smoke coming from the fire. On arrival, firefighters were faced with a fierce fire blowing out the rear windows and doors of an extended building in the rear of Island Sink Top that had spread to a residential garage in the rear of 24 East Maple Street and was danger of spreading to the home (for those long timers, we had a fire in Island Sink Top about 30 years ago). Hose lines were stretched into the building and surrounding residences by Engine 342 (East Maple Street, exposure 3), Engine 343 (East Merrick Road, exposure 1), Engine 344 (North Cottage Street, exposure 4), while Ladder 345 set up on East Merrick Road and Ladder 346 placed their rig on East Maple Street. Rescue 347 remained in front of the building. About 15 minutes into fighting the fire an evacuation of the building was ordered because of the fear of another propane tank exploding. After a short investigation firefighters reentered the building to extinguish the hot and difficult blaze. The fire was declared under control within an hour of the alarm. First Assistant Chief Joseph Garofalo was the Incident Commander and was assisted by Second Assistant Chief Brian Howley and both Chiefs thanked all firefighters for their efforts.
The fire was caused by an employee of a roofing company using a propane torch on the roof of Island Sink Top, which possibly set off fumes from flammable materials being used by workers in the building. The shut off valve from the exploding propane tank was propelled thru a second story window of an adjacent home. Damage to the Island Sink Top, the residential garage and other homes in the area were placed at $250,000.
The Lynbrook, Inwood, and Lawrence-Cedarhurst Fire Departments provided mutual aid at the scene and the Hewlett and Elmont Fire Departments placed stand-by units at Headquarters.
The Ladies Auxiliary again did their usual great job by providing refreshments to the firefighters during the fire.
The attached photo was taken in the rear yard of the East Maple Street home.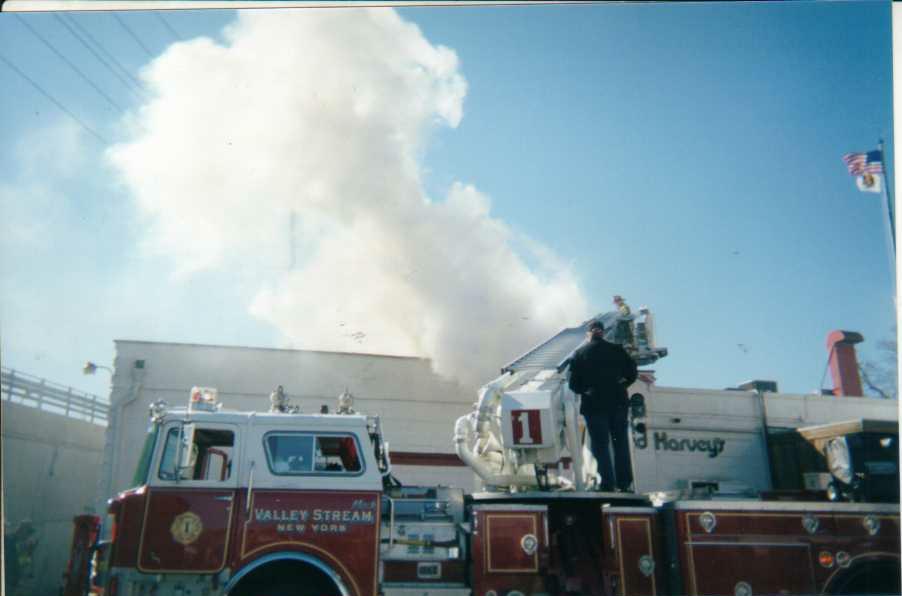 Signal 10, Sid Harvey's, E. Mineola Ave, Feb 5, 2002
Photos by Jason Lappe, Malverne Jr FD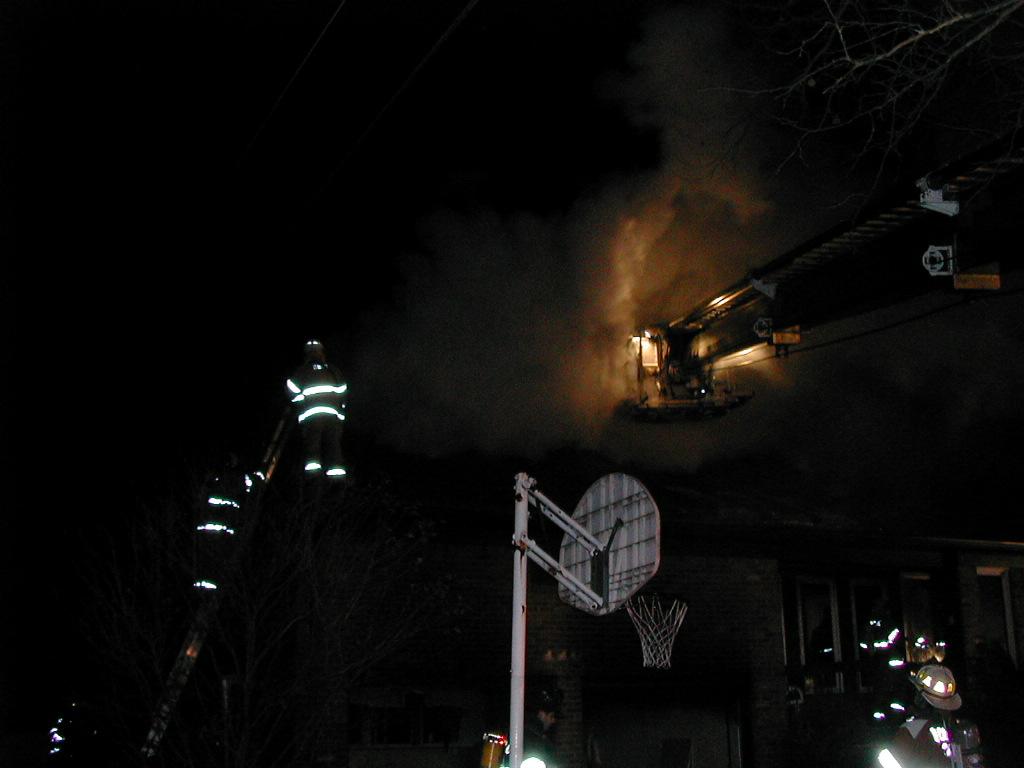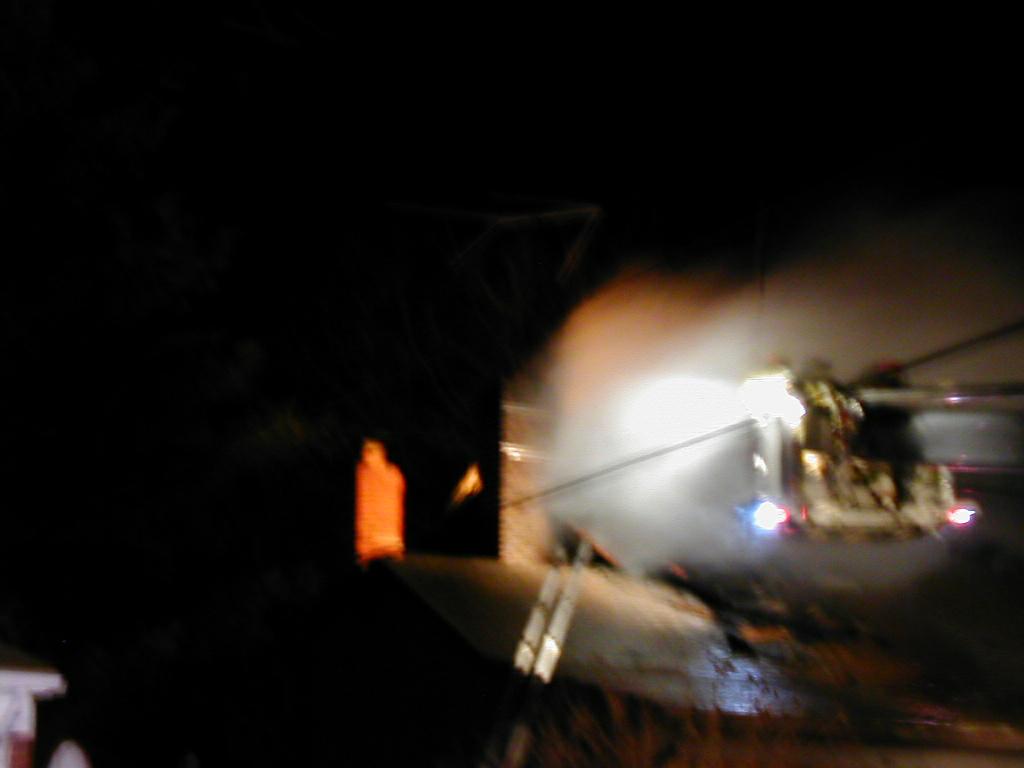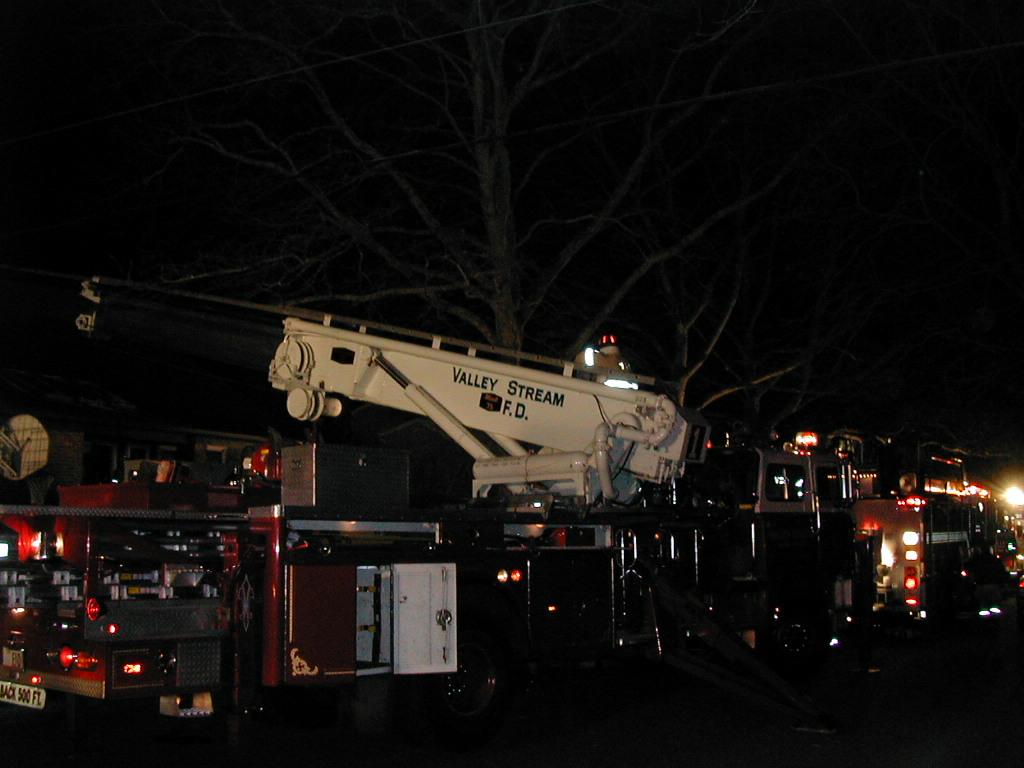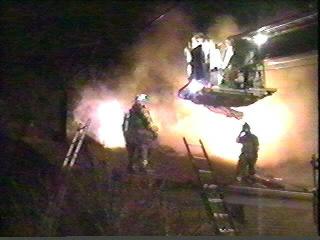 House Fire in North Woodmere, Dec 30, 2001 Mutual Aid to Hewlett FD
Ladder 345 venting the roof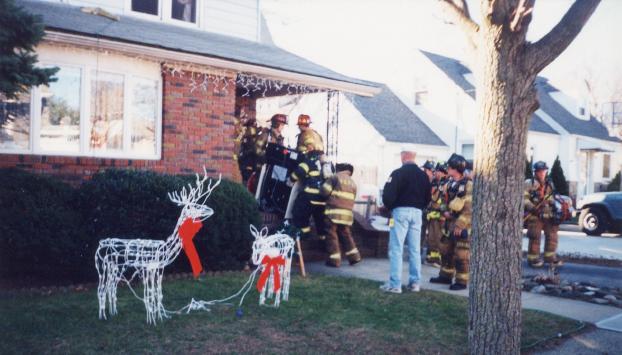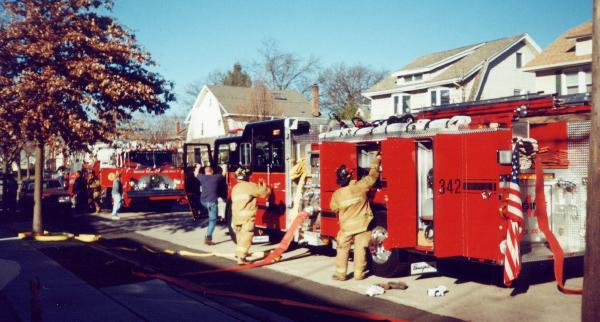 Stove fire on Melrose St Dec 22, 2001
<>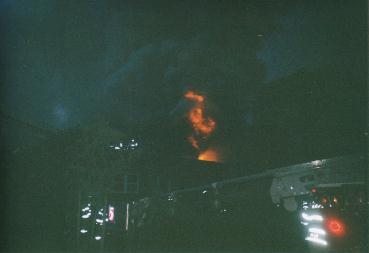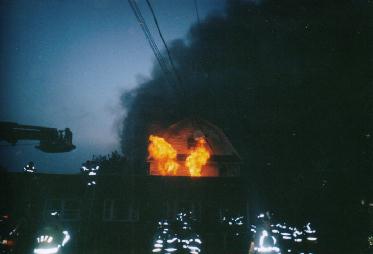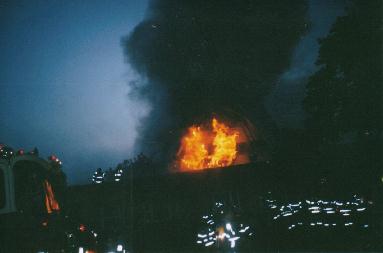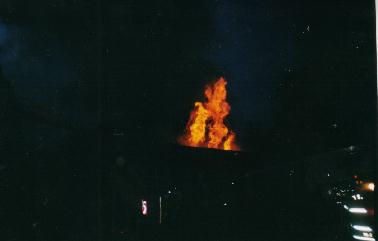 House/Doctor's Office Fire, 20 May 2001, Rockaway Pkwy
5 Handlines and 2 Tower Ladders put in operation
Photos by Jason Lappe, Malverne Jr FD
Car Fire in the Home Depot Parking Lot, Green Acres Mall
Photos by Jason Lappe, Malverne Jr FD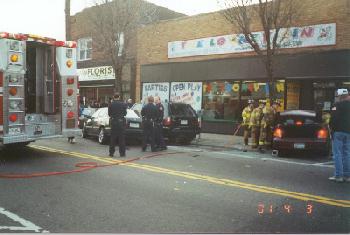 Multi-car MVA Rockaway and Merrick
April 3, 2001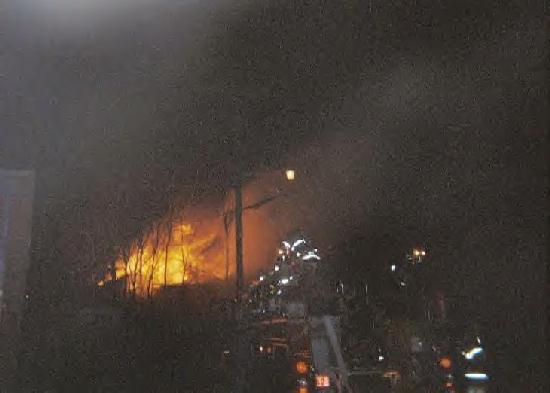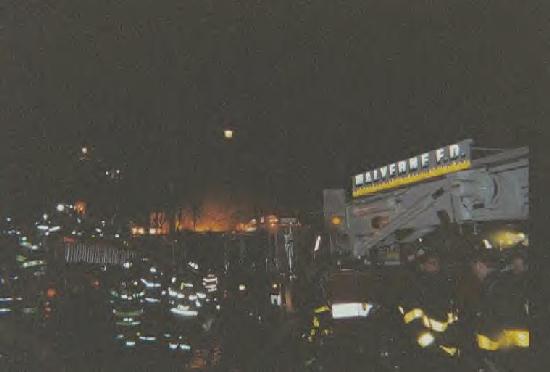 Hendrickson Brothers structure fire
Feb 2001
photos by Jason Lappe Malverne Jr FD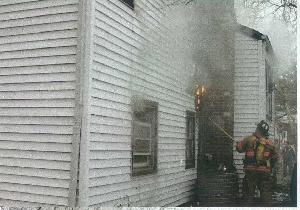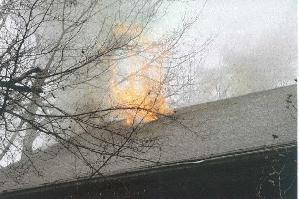 Mutual Aid to Hewlett Feb 9, 2001
Photos by Walter Weltner