More VSFD Pictures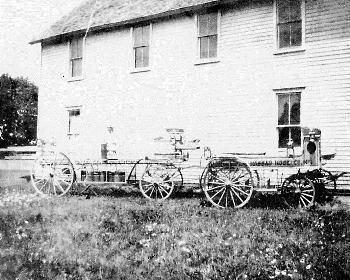 Truck 1 and Engine 1's old horse drawn rigs about 1912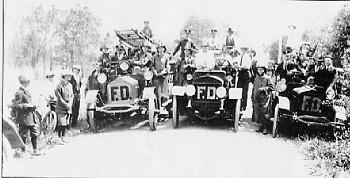 Truck 1's 1917 Selden, Engine 2's 1922 GMC, and Engine 1's 1917 Selden
The entire VSFD around 1923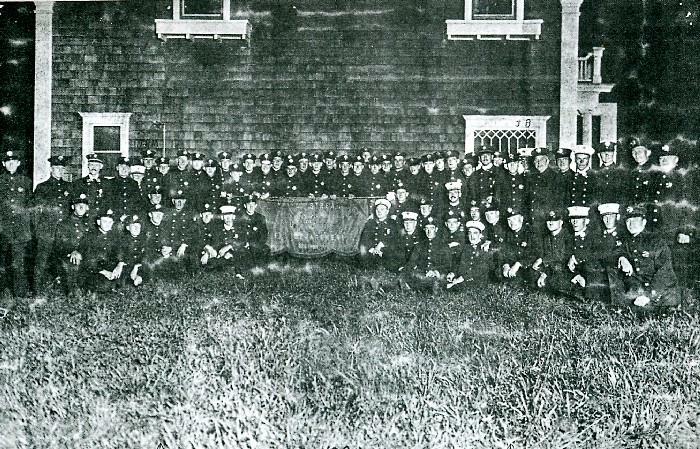 The VSFD in 1924 alongside the old Merrick Rd firehouse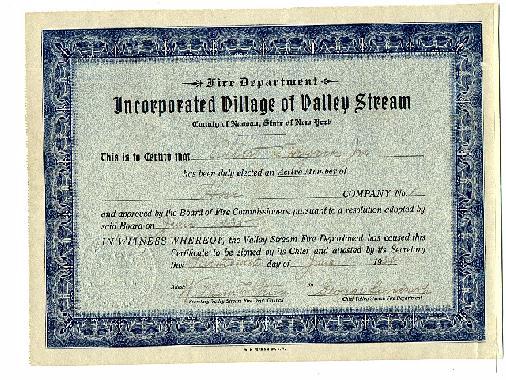 Certificate presented to Albert (Al) Segren Jr. of Hose Company 1 in 1938
From Valley Stream.com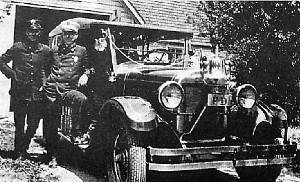 Reo chief's car
The passenger seat could fold down to accommodate a stretcher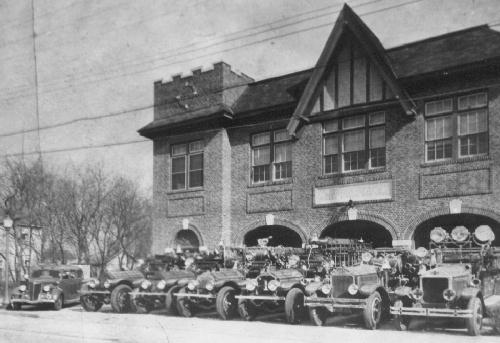 The Valley Stream Fire Department in 1936
From Left to Right:
1936 Ford Ambulance (R-1), 1925 ALF (E-1), 1925 ALF (E-2), 1924 ALF (E-4), 1925 ALF City Service Truck (T-1),
1929 ALF (E-3), 1932 ALF Floodlight/Rescue (R-1)

Several old chief's cars

The VSFD on the Village Green in the 1960s
In back: Truck 1-1959 Seagrave, Truck 2-1963 Seagrave
Left side: Engine 1-1962 Maxim, Engine 2-1964 American LaFrance, Engine 3-1959 Mack
Right side: Engine 4-1963 Seagrave, Spare Engine-1949 Ahrens Fox, Rescue-1950 Ahrens Fox
In front: Cadillac ambulance, chief's car, 1966 Chevy pickup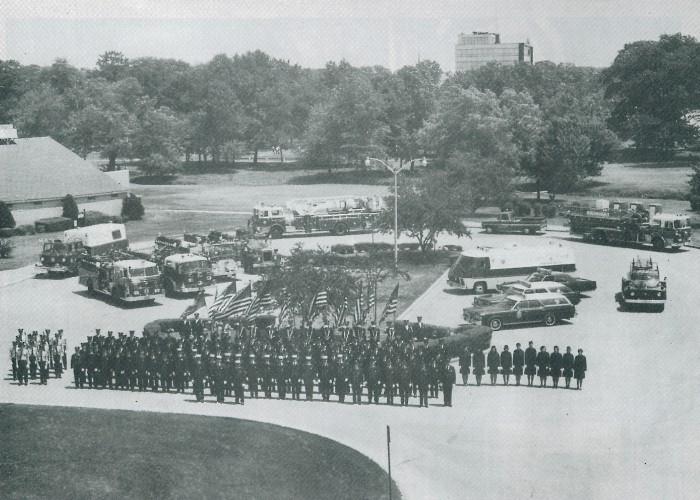 The VSFD on the Village Green in the 1970s
In back: Truck 1-1974 Mack, 1966 Chevy pickup, Truck 2-1963 Seagrave
Left side: Rescue-1969 Ford/Gerstenslager, Engine 1-1962 Maxim, Engine 2-1964 American LaFrance,
Engine 3-1969 Mack, Spare Engine 3412-1959 Mack
Right side: 1975 GMC/ComCoach ambulance, chief's cars, 1953 Ford pumper (tournament team truck)
In front: Explorer Post (now disbanded), Department, and Ladies Auxiliary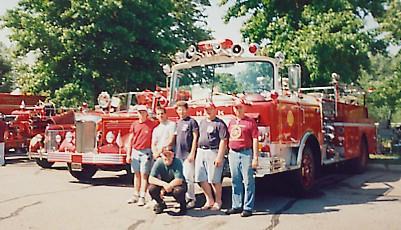 Dan T. Pempel, Rob Presti, Jr., Rob O'Brien, John Pempel, Dan Pempel, and Gene O'Brien II
with 3431 at the 1996 Great Neck Muster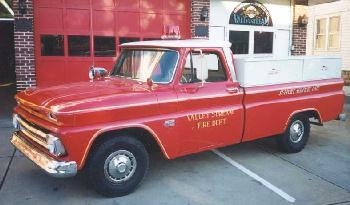 The old 3414 on the ramp of the Corona Ave firehouse
This 1966 Chevy pickup served many purposes over the years, as a transport, our first MSU, and as a Support Services Unit, until reverting back to being a transport unit. It was purchased by Dan Pempel (Sr) of Truck 1.

347, 341, and 349 on the ramp at Headquarters

<>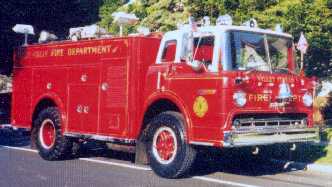 Former Unit 3410
A 1970 Ford/Gerstenslager floodlight truck. This unit served the Elmont FD as unit 709 until it was purchased by Valley Stream for use as a floodlight and spare rescue truck until it was sold.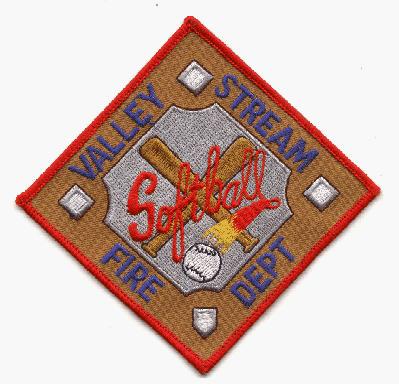 VSFD Softball Team Patch
Picture courtesy of Tom Gruber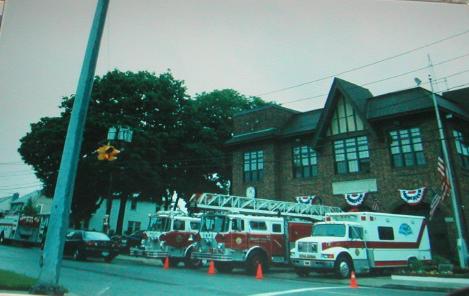 341, 347, old 346, and 349 at Headquarters
Photo by Steve Takacs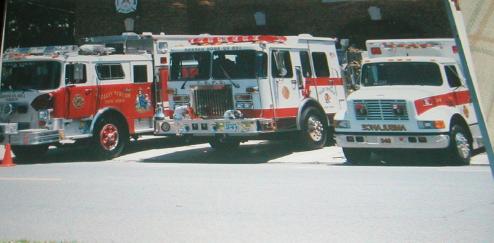 347, 341, and 349 on the ramp
Photo by Steve Takacs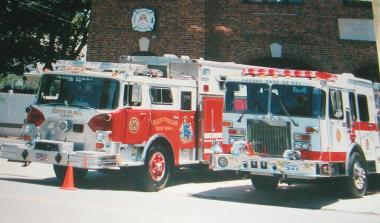 347 and 341
Photo by Steve Takacs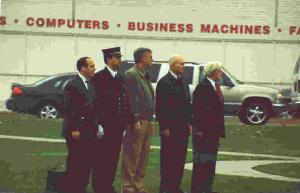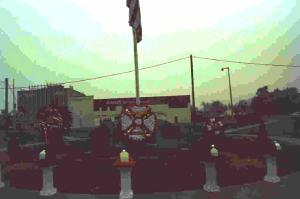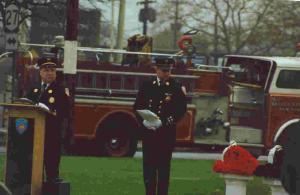 Annual Department Memorial Service, Nov 21, 2004, at Fireman's Memorial Plaza (in front of the VS railroad station)
Photos by Steve Takacs